by Kathy Levy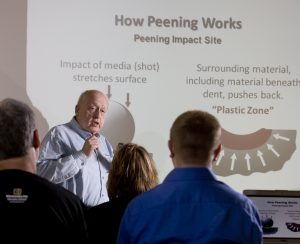 Media. Intensity. Coverage. If you're new to shot peening, understanding these three parts of the shot peening process will go a long way to guaranteeing your success in your profession.
It is beyond the scope of this article to explain these variables in great detail—the takeaway is you need to make it your business to learn everything you can about Media, Intensity and Coverage. And this applies whether you're a parts designer, a machine technician, an engineer or a foreman.
Here are a few reasons why media, intensity, and coverage are so important and some shortcuts to making you the shot-peening guru of your company.
MEDIA
There are many different kinds of ferrous and non-ferrous media and most media types are available in several sizes. The designer usually specifies the media based upon cost, durability, and the tolerance for contamination and dust generation.
Why Media Matters
The quality of the media is very important—a good shot peening process requires uniform, predominately round, and unbroken media. Media of mixed sizes and shapes will give an inconsistent residual compressive layer. Broken media can damage the surface of the part.
The size and type of media affects intensity. For example, if you want a higher intensity, use a harder or larger media.
Media needs to be controlled. Its flow rate can be adjusted to affect intensity; it can leak into the machine, resulting in downtime; it can be easily wasted and add unnecessary expense to the process.
Shortcuts
Develop a close relationship with a good media supplier. A trustworthy, experienced vendor can teach you a great deal about media.
Invest in a good media separator so your machine is always fed the highest quality media.
Invest in a MagnaValve® media flow valve to eliminate media-related failures and gain control over the process.
INTENSITY
Intensity is the measure of the energy of the shot stream that directly influences the amount of compressive stress imparted into the surface of the component. The intensity for a particular setting of machine parameters is determined empirically by exposing four (or more) Almen strips to the shot stream and creating a saturation curve.
A saturation curve is the graphical plotting of arc height versus exposure time to determine intensity. Intensity is interpreted as the arc height of the curve near the "knee" of the curve. (See SAE J443 for more information). A saturation curve is the accepted method for verifying or establishing the requested intensity reading.
Intensity is expressed as the arc height measurement of a peened Almen strip on an Almen gage. For example, a specification requests a .010 ±.002 A. Translation: An intensity of 0.010" is called for with an approved variance of 0.002" on a type "A" Almen strip. The acceptable range is from 0.008" to 0.012".
Why Intensity Matters
Surface residual compressive stresses are one of the most important reasons we shot peen metal components. Surface residual compressive stresses provide resistance to metal fatigue and some forms of stress corrosion. Achieving and maintaining the desired intensity is key to a controlled shot peening procedure and yet several variables affect it, including media size, media type, media impingement angle, shot stream velocity and the wear and failure of consumables in a shot peening machine.
Shortcuts
Plotting arc heights for a saturation curve is time-consuming and often inaccurate when done manually. Computerized curve solver programs by Dr. David Kirk simplify the procedure.
Purchase certified Almen strips that a) are graded to make it easy to select the appropriate strip for your application and b) undergo rigorous laboratory and field testing to ensure consistent performance from lot to lot.
COVERAGE
Coverage is the measure of the original surface area that has been covered by shot peening dents. Coverage is controlled by equipment cycle time and is specified by a percentage. If the goal is "100% coverage," the length of machine cycle time to achieve 100% coverage will depend on the intensity (size of each dent) and the media flow rate. Soft materials will have larger dents than hard materials and therefore the rate of coverage will be faster.
Why Coverage Matters
Part designers or customers require their components to be peened to a specified level of coverage: "Not too little and not too much." Insufficient coverage may not develop the proper stress profile in critical areas. Excessive coverage may cause surface damage that could promote premature fracture initiation.
Shortcuts
Coverage check tools replace the difficult and often inaccurate visual inspections to determine the degree of coverage.
THE ULTIMATE SHORTCUTS
As you've probably already realized, Media, Intensity and Coverage are interdependent and this article addresses the barest minimum you need to know about them. If you're feeling overwhelmed at this point, there are several options to shorten your learning curve.
Vendor training – Many of you are responsible for bringing shot peening in-house. Part of your job will be to oversee the installation of a shot peening machine. Your OEM has a wealth of information on the media, intensity and coverage parameters for your new machine. Take advantage of every bit of training and documentation they have to offer.
Get professional shot peening training at workshops and on-site training programs. Workshops cover the entire scope of the shot peening process from theory to machine maintenance. On-site training has the additional benefit on providing hands-on training on your own machinery.
Visit the online library at www.shotpeener.com for information on everything relating to shot peening.
Subscribe to The Shot Peener magazine for useful articles and vendor information.
Join the Q&A Forum at www.shotpeener.com. You can ask questions and get answers from industry experts.