Electronics Inc. is housed in a 24,000 square-foot building on the St. Joseph River in Mishawaka, Indiana. The facility holds offices, manufacturing and assembly areas, MagnaValve and Almen strip testing labs and warehouse and shipping space.
Jack Champaigne founded Electronics Incorporated (EI) in 1974 with the intent of supplying process controllers to Wheelabrator Air Pollution Control Division for their dust collectors. Upon the successful delivery of the process controllers, Wheelabrator Blast Cleaning Division asked Mr. Champaigne to furnish a media flow monitoring system and controllers for a Boeing 747 Jumbo Jet project. The project had 16 abrasive wheels on a large monorail peen-forming machine. Looking for more marketing opportunities, Mr. Champaigne developed a media flow valve for air-type peening machines that he named the MagnaValve®. It was so well received that it became the impetus for a complete product line for the shot peening and abrasive blast cleaning markets.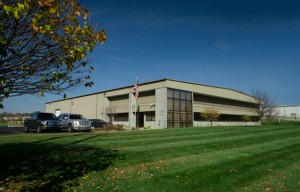 Unable to find suitable advertising opportunities for the MagnaValve, EI started its own publication in 1986 called the The Shot Peener. To help underwrite the cost of the publication, EI began marketing Almen strips, introducing the concept of graded strips to meet the needs of various industries (automotive, aerospace, etc.).
The product line now includes shot peening and blast cleaning flow controls, monitors, MagnaValve for air and wheel blast machines, certified Almen gauges and certified Almen test strips. EI currently holds over 14 U.S. Patents relating to shot peening control technology. EI's products are used in aerospace, automotive, medical, mining, and many other manufacturing applications. EI has a worldwide distribution network.
To further assist industry growth, EI introduced annual Workshops for Shot Peening and Blast Cleaning in 1991. EI was the first FAA-approved source for shot peening training and over 100 FAA inspectors have benefited from EI FAA specialized training. Jack Champaigne and Pete Bailey of Electronics Inc. launched their unique on-site training program for the FAA in 2001—it's the first program of its kind and was developed especially for the FAA. EI also provides on-site training for military bases and companies worldwide and co-sponsors workshops with shot peening organizations around the world.
In 1992, EI initiated The Shot Peener of the Year recognition program to celebrate the achievements of contributors to the advancement of the industry.
The online Shot Peening Library was founded by Electronics Incorporated (EI) in 1996 when it launched www.shotpeener.com, the only web-based information resource for the shot peening and blast cleaning industry. For the first time, the vast number of articles and research papers that EI had compiled since the company's inception was easily accessible to everyone. This resource is the largest compilation of shot peening and blast cleaning knowledge in the world.
As the need grows for stronger, safer and lighter metal components in transportation, medical and many other manufacturing applications, EI continues to be a pioneer in the industry by continually exploring new avenues for growth and developing products and services for the exciting field of metal surface treatment.
Get in Touch…
Electronics Inc.
56790 Magnetic Dr.
Mishawaka, IN USA 46545

Phone: 574-256-5001
Toll Free: 800-832-5653
Fax: 574-256-5222
Email: info@electronics-inc.com