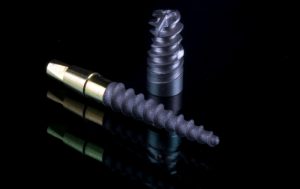 by Kathy Levy
If you're a medical device manufacturer that utilizes shot peening to make your products stronger and lighter, you should take advantage of two assets that will give your process the necessary quality control:
"SAE J3020 for Medical Device Shot Peening" – a shot peening specification written by an engineer in the medical device industry for the medical device industry
Training for your shot peening team to help them meet the SAE specification by a qualified shot peening training company
SAE J3020 for Medical Device Shot Peening
As an engineer with Medtronic, Scott Hatfield was given the mission of bringing shot peening in-house to the Warsaw, Indiana facility. To accomplish his goal, Scott needed to purchase the right equipment, and provide documentation and training for engineers and machine operators.
Scott quickly discovered that aerospace and automotive specs weren't applicable to medical device manufacturing so he joined the Society of Automotive Engineers Surface Enhancement Committee (SAE SEC) and worked with the group to develop a relevant spec for his industry.
SAE J3020 is now a published specification and is available to the medical device manufacturing community. (Go to http://standards.sae.org/j3020_201405 to purchase.) Note: Scott's contribution to the development of the spec and the validation of the shot peening process at Medtronic earned him the 2013 Shot Peener of the Year award from The Shot Peener magazine. The magazine recognizes outstanding contributors to the shot peening industry.
Shot Peening Training for the Medical Device Industry
For many companies, it's not enough to have a specification. Everyone on the shot peening team must understand the tools and procedures to properly deploy the shot peening process. Electronics Inc. (EI) Shot Peening Training programs provide workshops, seminars and on-site training that give employees the education they need to meet the SAE J3020 specification. In fact, Jack Champaigne, President of Electronics Inc. and an instructor at the workshops, is the Chairman of SAE SEC.
The EI Shot Peening Training programs also cover every aspect of a controlled shot peening process for compliance to automotive and aerospace specifications—their classes are FAA-accepted courses for FAA auditors and inspectors.
For more information on upcoming workshops and on-site training programs, visit www.shotpeeningtraining.com.