by Kathy Levy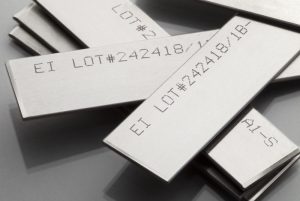 In 1995, Jack Champaigne, President of Electronics Inc. (EI), developed an Almen strip grading system to help EI's customers select strips that would accurately meet public and private specifications. Before the EI Almen strip grading system, it was difficult to choose the correct Almen strips for a peening project when two or more specifications were cited and the requirements were in conflict.
Electronics Inc. established a measuring system for Almen strips using an extensive sampling program that sorts strips into three grades. The grades differ in hardness, flatness (prebow) and thickness, and their ability to meet rigorous performance requirements in peening tests. The terms Grade 1, 2 and 3 differentiate these quality levels in a simple system:
Grade 3 – Bulk (A-3™, N-3™, C-3™).
 Grade 3 strips are guaranteed to meet the requirement of MIL-S-13165 (now AMS-S-13165). The A-3 strip is guaranteed to meet National Stock Number NSN 6635-00-512-1892. Grade 3 strips are economically priced and bulk packaged.
Grade 2 – Standard (A-2™, N-2™, C-2™).
 Meets AMS-S-13165. Excess oil is removed from the Grade 2 Standard strips. The strip surfaces are then visually inspected for score marks, scratches, nicks, burrs, pits and rust. Strips are certified using a sampling inspection plan for hardness, length, width, thickness, and flatness (pre-bow). A dated certification of compliance is issued, signed, and archived. EI then packages "A" and "N" strips in groups of 50 and "C" strips in groups of 25.
Grade 1 – Premium Grade (A-1™, N-1™, C-1™).
 Meets SAE J442. Electronics Incorporated performs all the inspection and packaging operations listed for Grade 2 strips. Strips are sample inspected for flatness (±0.0010"/±0.025 mm) on each side. A dated certification of compliance is issued, signed, and archived. A batch control number for traceability identifies the Premium Grade 1 strips.
Grade 1S – Special Grade (A-1S™, N-1S™).
 Meets SAE AMS 2432B. In addition to the requirements for Grade 1 Premium strips, the Grade 1S strips are inspected to a ±0.0005"/±0.013 mm flatness (pre-vow) tolerance of AMS 2432B. A dated certification of compliance is issued, signed, and archived.
* AMS-S-13165 has been cancelled with instructions to use AMS 2430. For more information, see Almen Strips FAQ.
A-3, A-2, A-1, A-1S, N-3, N-2, N-1, N-1S, C-3, C-2, C-1 are trademarks owned by Electronics Inc.