by Kathy Levy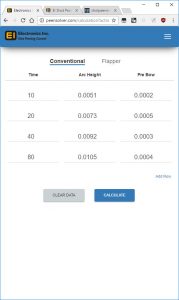 Now you can access a saturation curve solver program from most devices, including desktops, laptops, tablets, iPhones and Androids. And it's not just any curve solver. The PeenSolver is from Electronics Inc.—the same company that introduced the computer-based Almen saturation curve analysis program by Dr. David Kirk.
Like Dr. Kirk's curve solver program, PeenSolver calculates peening intensity as defined in SAE J443, and it conforms to SAE J2597. It uses the same curve-fitting feature and equations Dr. Kirk developed for the Excel-based program and is available free of charge.
The PeenSolver solves conventional and rotary-flap saturation curves. It has optional pre-bow input and solutions can be output to a PNG image file.
Give it a try at www.PeenSolver.com.
(The Almen Saturation Curve Solver and Peening Coverage Predictor computer-based programs by Dr. David Kirk are available as free downloads in "Tools" at www.shotpeener.com.)