by Kathy Levy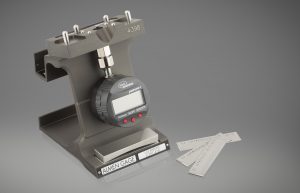 Pre-bow, or the variation from "perfect" flatness in the unpeened Almen strip, acts like a latent bias in the arc height measuring system and distorts the arc height reading. Arc height readings will not be accurate if the pre-bow of an Almen strip isn't taken into consideration. For example, an Almen strip that has a positive pre-bow of +0.001" (0.0254 mm) will have a 0.001" (0.0254 mm) higher arc height than an Almen strip with zero pre-bow. If the initial pre-bow value is -0.001" (0.0254 mm), the resulting arc height will be diminished by the same amount.
If you want to ensure the accuracy of your arc height readings, you have two options:
Use an Almen strip grade with a lower pre-bow
Perform pre-bow compensation
Choosing Almen Strips Based on Pre-Bow
This chart shows the pre-bow tolerance for three grades of Almen strips. Some general-purpose peening applications have a large tolerance band and therefore the offset caused by the pre-bow bias is not important. When a tighter intensity tolerance is needed, pre-bow becomes more important. For critical and most aerospace shot peening applications, the A1-S Almen strips should be used.
Grade
Pre-Bow
in/mm
Specification
Application
Intensity Example
A-2
±0.0015
±0.038
SAE AMS 13165
General commercial and light industrial
6-14 A
A-1
±0.0010
±0.025
SAE J442
Industrial
6-10 A
A-1S
±0.0005
±0.013
SAE AMS 2432
Aerospace
6-8 A
Pre-Bow Compensation
If your shot peening procedure, such as a process development or system capability study, requires a higher intensity accuracy, pre-bow compensation should be used. This technique can provide an additional reduction in process uncertainty. A pre-bow compensation ensures that only the net difference in arc height of a peened Almen strip is plotted on a saturation curve.
To perform pre-bow compensation, first zero the Almen gage and then place the unpeened Almen strip on the gage. Be sure to note if value is positive or negative and record its value. The resultant change in the arc height is determined by subtracting the recorded pre-bow value from the measured arc height. For example:
If the pre-bow is +2 and the arc height reading is 10, the arc height is 8
If the pre-bow is -2 and the arc height reading is 10, the arc height is 12
In summary, most peening applications can tolerate the SAE J442 pre-bow bias of ±0.001" (0.0254 mm) (for N and A strips) or ±0.0015" (0.0381 mm) for C strips. If this tolerance level is too high, you can either purchase strips to meet AMS 2432 where the pre-bow tolerance is half of the SAE J442 tolerance, or you can apply the pre-bow compensation discussed above.
Note: Some aerospace companies will only allow pre-bow compensation to be used with strips that meet the tighter pre-bow tolerance ±0.0005" (0.0127 mm) per AMS 2432.