by Kathy Levy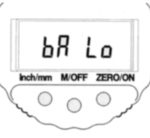 It's easy to change the batteries in the indicator of the TSP-3 #2 Almen gage for several reasons. First, the gage will tell you when it's time to change the batteries. The message "bALo" will be displayed on the indicator screen when the battery power is low and the batteries must be replaced.
Second, the TSP-3 #2 Almen gage uses two (2) CR2450 lithium batteries that are available from many retailers.
Finally, the batteries are replaced in four easy steps:
Using a small flat-blade screwdriver, carefully slide the blade into the battery tray, releasing the tray from its locked position (Figure 1).
Once the battery tray is unlocked, grasp it with your fingers and pull the tray out and away from the indicator. Note that the batteries are held upside down in the tray (Figure 2).
Remove the old batteries. Put in new batteries with the "positive" side up in the battery tray. (Figure 3).
Slide the tray holder into the indicator until it locks into position (Figure 4).
And more good news: Your set-up and calibration information are saved during battery replacement.