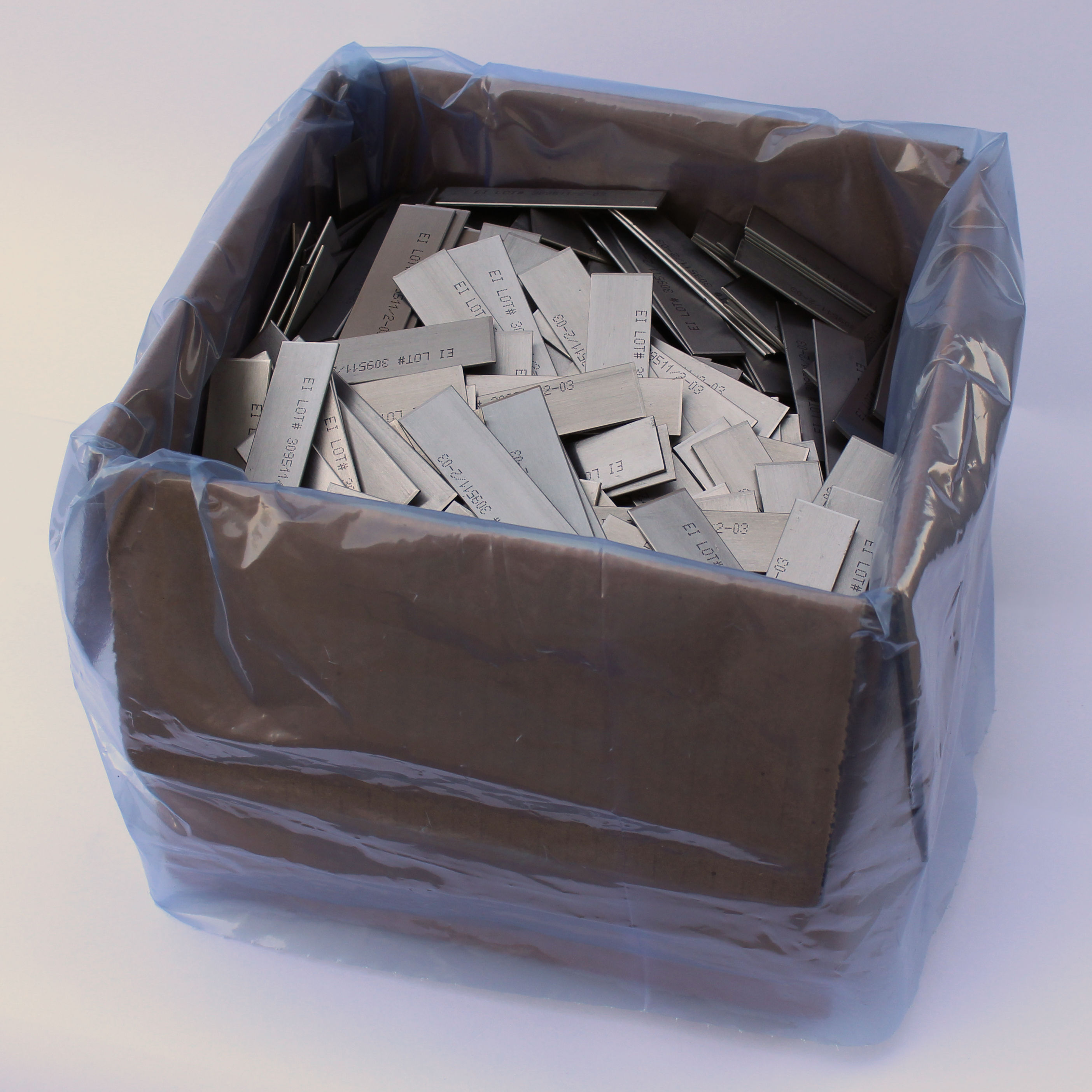 by Kathy Levy
Preventing rust on Almen strips is easy because Electronics Inc. does most of the work for you. Electronics Inc. puts two pieces of VCI paper in every 50-piece box of Almen strips. Almen strips sold in bulk are sealed in blue VCI polyethylene bags with a 12" x 12" sheet of VCI paper before being packaged in a cardboard box. (VCI stands for Volatile Corrosion Inhibitor and VCI materials are very effective rust and corrosion inhibitors.)
These best practices will ensure your EI Almen strips stay free of rust and corrosion.
Do not throw away the VCI paper packaged with your 50-piece box of Almen strips. Always return unused Almen strips to the EI box with the unprinted side of the VCI paper touching the strips.
If you purchase Almen strips in bulk, keep the strips in the blue VCI polyethylene bag. Do not throw away the 12" x 12" sheet of VCI paper packaged in the VCI bag; leave it in the bag. The unprinted side of the paper should be in contact with the Almen strips. Always close the VCI bag and fold the leaves of the box.
Store the Almen strips in a low humidity environment, if possible. Recommended storage conditions are 65°F – 75°F (18˚C – 24˚C) with a 20% – 60% relative humidity.
Avoid major temperature changes when handling the strips—in particular, moving cold strips into a warm environment. This can result in condensation on the surface of the strips. If condensation forms on the Almen strips, wipe it off and make sure the Almen strips are dry before placing them back in their original packaging. Again, ensure the strips are in contact with the VCI paper.
If you cannot store your strips in a dry, temperature-controlled environment, do not keep a large supply of Almen strips on hand. Electronics Inc. maintains a large inventory of strips for fast delivery.