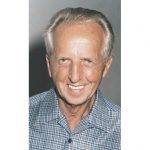 The EI Shot Peening Training staff is very pleased to announce that Dr. David Kirk will be making a presentation at the upcoming seminar in the United Kingdom.
Dr. Kirk, a Visiting Professor of Materials at Coventry University, is one of the foremost contributors to the understanding of the shot peening process. He is the developer of the Saturation Curve Solver program and is the author of a regular column in The Shot Peener magazine. His ability to simplify and illustrate complex aspects of the shot peening process was one of the reasons he was named The Shot Peener of the Year in 2001.
Dr. Kirk's presentation is titled "Let's Quantify." According to Dr. Kirk, shot peening technicians are much more effective if they embrace quantification as a basic philosophy. His presentation will use simple visual aids to illustrate the fundamental peening parameters and show how easy it is to quantify them.
The seminar will be August 9 – 10, 2016 in Warwick, England at the Hilton Warwick. Registration ends August 2nd.
For more information on the UK Shot Peening Seminar, including easy and secure online registration, visit www.shotpeeningtraining.com/seminars/england.