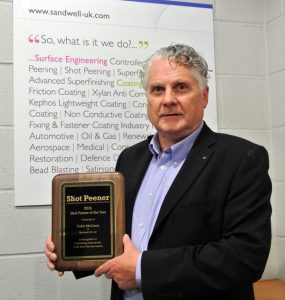 Since 1992, The Shot Peener magazine has given The Shot Peener of the Year award to individuals that have made significant contributions to the advancement of shot peening.
This year, the award was given to Colin McGrory in recognition of his success as an innovative entrepreneur and his enthusiasm for continually exploring and improving the shot peening process.
Electronics Inc. is the publisher of The Shot Peener so we always feel a connection to the recipient of the award. We were pleased to see Colin get the recognition he deserves on www.aboutmyarea.co.uk, a website that promotes the area around the town of Towcester.
We've reprinted the article below in case the link is broken.
Congratulations, Colin!
Towcester Businessman Colin McGrory Wins Shot Peener of the Year Award
by Pim van Baarsen
November 26, 2016
Towcester based Sandwell's Founder and Technical Director has been awarded the prestigious Shot Peener Magazine's "Shot Peener of the Year 2016" accolade, becoming only the third ever British recipient in the history of the award.
The Shot Peener magazine presents The Shot Peener of the Year award to individuals in the industry that have made significant contributions to the advancement of shot peening.
"It is our pleasure to award Colin McGrory the Shot Peener of the year Award", commented Jack Champaigne, Editor of the Shot Peener magazine and chair of the SAE Committee for Surface Enhancement. "Colin has been presented with this award for his tenure in the industry, his entrepreneurial spirit and technical and scientific innovation" he continued. "Colin has continued to develop new technologies and techniques, as well as working on scientific research to drive the industry forward".
Upon receiving the award, Colin commented; "It is a great honour to receive such a prestigious award, as it signifies the international recognition from peers and that is both humbling and inspirational" Colin stated. "Of course, this award is also a reflection of the hard work by all the team at Sandwell, and I am sure that together we will continue to push the boundaries and keep driving forward."
The UK is recognised as a leader in innovation and research and Sandwell is a key contributor in its field of expertise. As a company Sandwell continues to develop processes and techniques by engaging with partners and technical experts to ensure their processes align with advanced manufacturing techniques.
For more information about Sandwell and their shot peening and surface engineering capabilities visit www.sandwell-uk.com or contact the team on +44 (0)1327 350205 or sales@sandwell-uk.com.